Galleries
Performances
Puccini's La bohème
Lyrical Opera Theatre
Taylorsville, Utah
September 9th - 17th, 2023
2023 USU Faculty Chamber Recital
Russell-Wanlass Hall
Caine College of the Arts
Utah State University
March 26th, 2023
Jeremy Adriano Senior Recital
Collaborative Piano
Russell-Wanlass Hall
Caine College of the Arts
Utah State University
April 30th, 2022
From an attendee:
When your husband [Marc] started singing, [my husband] leaned over to me and said, 'Whoah. He has the voice of seven thunders!' And then when you [Jacquelyn] came out and sang, he said 'And so does she…I can see why they got married!'
Videos
Stage Directing
La cenerentola
Gioacchino Rossini's La cenerentola, Queen City Opera, 2017. Photo credit: Tina Gutierrez.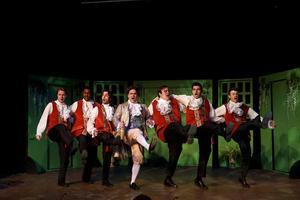 Reviews and Press
South Florida Classical Review
"Miami Music Festival scores with chamber operas by Purcell and Menotti" - 2018
Purcell's Dido and Aneas:
In an opera that can seem dramatically stilted to modern audiences, director Jacquelyn Mouritsen's staging was pitch perfect. From the stylized choreographic gestures for the Sorceress's retinue to the final scene as Belinda and the court mourn over the lifeless body of the queen, Mouritsen created a series of striking stage images.
Menotti's The Medium:
Mouritsen staged Menotti's shocker though the moody lens of a film noir, keeping the drama moving at tight pace.
Arts Wave Guide
"Queen City Opera out-Cinderellas Cinderella" - 2017
[Actor Simon] Barrad plays [Dandini] almost as a Ferris Bueller or Zak Morris type, complete with freeze-frame moments when he addresses the audience directly (and here acknowledgement is due, no doubt, to stage director Jacquelyn Mouritsen).